On any given day at Grand View Alzheimer's Special Care Center in Peoria, IL, you might find residents and Team Members taking a walk in the sunny courtyard, baking some delicious treats in the dining room, or enjoying a relaxing activity – like a puzzle – in the game room. And in a typical year, you would find the Grand View Guys & Gals (their Walk to End Alzheimer's Team) hosting amazing fundraising events on-site and in-person; all in hopes of supporting the Alzheimer's Association with funds to provide vital support to families, while researching a cure for this horrible disease.
This year, fundraising efforts look quite different. In-person events have been exchanged for virtual gatherings, due to physical distancing and PPE requirements. On-site events have been canceled or rescheduled, due to visitation restrictions and to keep residents safe from exposure to COVID-19.
In order to keep up with their fundraising goals from 2019 – where they raised over $30,000.00 – the Grand View Guys & Gals jumped into action to create new fundraising tactics that would also help engage and enrich the lives of their residents and families. Now with already over $20,000.00 in funds raised for 2020, I recently had the opportunity to talk with Grand View Administrator, Julie Hess, about her Team's fundraising success and their innovative and engaging methods, along with why ending Alzheimer's is so important to the Grand View Team.
Sinceri Senior Living: You've already raised over $26,000.00 in funds – and counting – for the Alzheimer's Association this year. Congratulations! Would you mind sharing your secrets to fundraising success?
Julie Hess: Partnering with our resident families became the catalyst to jumpstart our fundraising success. A couple of years ago, one of our resident family members shared that he wanted to give back and contribute towards Ending Alzheimer's disease. This family member started by writing an email that told the love story of him and his wife. Sending this to business associates, friends, and family members, he asked for their support in Ending Alzheimer's disease. The response was strong and the fundraising success, incredible!
Since then, we have focused on casting a wide net and helping spread the word through building awareness for the Alzheimer's Association. Our secret to fundraising success is not being afraid to engage everyone in our goal of ending Alzheimer's disease.
Why is Ending Alzheimer's Disease so important to the Team at Grand View?
30 years ago, my grandfather was living with Alzheimer's disease in a nursing home. At the time, no one understood the disease and thought that memory loss just came with age – that it was just becoming senile. The nursing home environment and conditions were not optimal for those with Alzheimer's and related dementia, especially considering the lack of understanding around the disease process back then. As time went on, I watched this hardworking, wonderful man deteriorate.
Years later when I started in senior living, I already knew from personal experience what was needed to provide quality care for residents and their loved ones. As my career continued, I was eventually connected with the Alzheimer's Association and later with Sinceri Senior Living. When given the opportunity to join JEA, I jumped at the chance! Between the cultural alignment and similar personal experience of our founder, I loved being able to join a team that truly had a heart for those affected by memory loss.
At Sinceri Senior Living and Grand View, we truly believe that we are guests in our residents' homes. We want to respect and enrich their lives, acting as an extension of their family. Since their family members are not able to connect with their loved ones each day – it is our goal to become family by creating Meaningful Moments for each of them.
With COVID-19, you've had to pivot your fundraising tactics this year. I understand that you partnered with a local jeweler to create one-of-a-kind bracelets to support the Alzheimer's Association. Would you mind sharing how this project came about?
When the pandemic started, many non-profits were looking for creative ways to fundraise and increase awareness for their cause. Bremer Jewelry, a local jeweler in our community that is extremely generous in their charitable contributions, started working with the national jeweler, Dee Berkley, to help offer charity support. Noticing partnerships between Bremer Jewelry and several other large non-profits in our area, I thought about the Alzheimer's Association and our goal to end Alzheimer's disease.
After reaching out to speak with the owner of Bremer Jewelry, they quickly responded, "of course!" and shared that they would be happy to help with our support of the Alzheimer's Association.
From here we started working together to design and create the Embracelets. These beautiful bracelets are designed with beautiful chakra beads of purple – to represent the Alzheimer's Association – and white – to represent the hope for the first survivor of Alzheimer's disease. Our first order was over 100 bracelets, which we thought would be enough. However, we sold out of these in less than 2 weeks. We have just placed another order for 50 more bracelets and expect these to sell out again soon.
What an awesome partnership! Are there any other fundraising successes that you would like to share?
Yes – we have also been selling decorated birdhouses to help raise funds. This all started with our Community Resource Director who had a relationship with a community member who wanted to give back to the Alzheimer's Association. Through this partnership, the individual donates birdhouses to our community for residents to decorate. This has been a great activity and opportunity for Meaningful Moments with our residents and Team Members to come together creatively. So far, we have decorated about 100 birdhouses.
After painting and decorating, our local trophy shop provides a plaque that is engraved with the name of the resident who decorated it. Our birdhouses have been very successful with both resident engagement and fundraising support. We believe this is because of the personal connection we have created with those in our community. It has been so powerful for those who buy our birdhouses to know how they are supporting those in their community with Alzheimer's disease – and even more powerful for them to know that these birdhouses were lovingly decorated by someone living with Alzheimer's disease in their local community.
Earlier this year, when the pandemic started and states issued stay-at-home orders, we had a resident family member approach us to ask, "how can I help you?". They truly wanted to offer their support in any way possible, and to also stay connected to their loved one in our care. Each day, this loved one continued to offer their support to our team.
When we started selling birdhouses – and orders continued to come in – we asked this family member if they would mind helping with deliveries. Their answer was a resounding, "YES". This individual has continued to help with deliveries and even purchased their own birdhouse. On the condition that their name is kept anonymous, this individual purchased a $20 birdhouse for $2,500 to help support our cause and the Alzheimer's Association.
It's obvious that family partnerships contribute not only to your fundraising success but also towards overall resident wellbeing. Can you tell me a bit about how you build strong relationships with resident families?
To build relationships and connections, we share our stories. Some of our stories are about our residents – their loved ones. Or for those who are not living here yet, we share anecdotes to connect with them. While we cannot have families tour our building physically, I can help paint a picture for them of life at Grand View.
I can help describe someone who is on hospice, in a wheelchair, and unable to communicate.
Can you picture them? 
Now I want you to picture our team building a slip-n-slide for this resident who loved doing the slip-n-slide every summer as a child. For them, these memories were truly the essence of summer and some of the highlights of their childhood. So, to help create a Meaningful Moment for this and other residents, we built a safe slip-n-slide that they could enjoy. Watching their face light up as they moved along the track on an inflatable rubber ducky was truly magical.
This is what we do at Grand View. We enrich lives and create Meaningful Moments like this for our residents. We hope to fundraise so successfully, that someday we can end Alzheimer's disease and save families from this devastating disease.
---
If you would like to support the Grand View Walk to End Alzheimer's Team and End Alzheimer's Disease in style, please see the flyer below for more information on how you can order a customized Embracelet from Bremer Jewelry.
For more information on the Alzheimer's Association and the Walk to End Alzheimer's please visit their website here: https://alz.org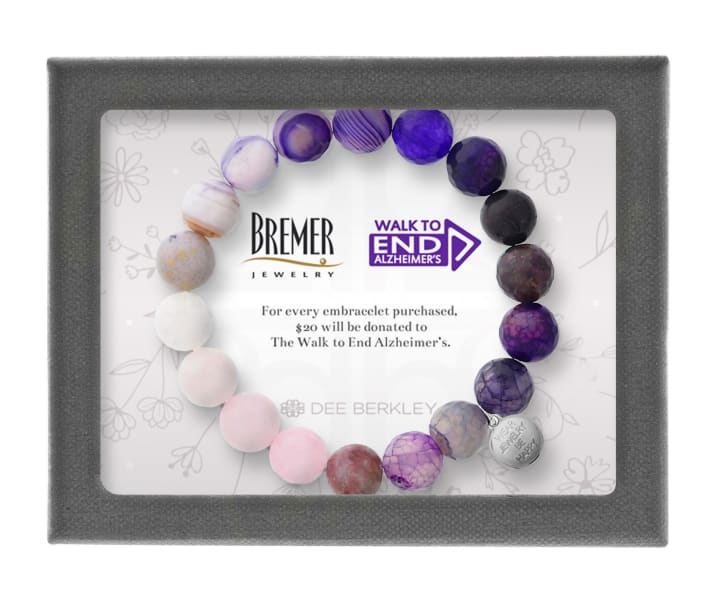 Alzheimer's disease is relentless. So are we! We are proud of our fundraising for The Walk to End Alzheimer's, the world's largest event to raise awareness and funds for Alzheimer's care, support, and research.  
This year we are grateful to the generous support of Bremer Jewelry and designer Dee Berkley. This Em[brace]let not only symbolizes Alzheimer's disease with its beautiful purple Chakra stones, but it also features the white Chakra, which represents the future survivors of Alzheimer's disease.  
We are so excited to share this with those of you who support us.  All the Chakra gemstone colors are handpicked so every bracelet will be slightly different creating a bracelet that is as unique as you.  Stack them for a more beautiful look!
The Em[brace]let fits anyone with its stretchy yet sturdy design.  You can purchase a bracelet for you or as a gift for only $40, and $20 will go directly to The Walk to End Alzheimer's.  
Bracelets are available now and there is a limited supply so call us today at 309.692.2484 to purchase yours.